Los Angeles County, hit hard by the 2008 recession, is nearing a housing recovery. Most importantly, Los Angeles finally recovered all jobs lost during the recession at the end of 2014.
Until 2015, the housing recovery had been driven primarily by investors in Los Angeles County. But expect the housing market to begin to continue showing more life from owner-occupants as employment and incomes continue to improve in 2017. The largest obstacles facing homebuyers in today's market are home prices and interest rates, which have risen out of the reach of many, meaning competition in the low-tier is tight.
View the Los Angeles regional charts below for details on current activity and forecasts for its housing market.
Updated June 7, 2017. Original copy posted March, 2013.
Home sales volume remains low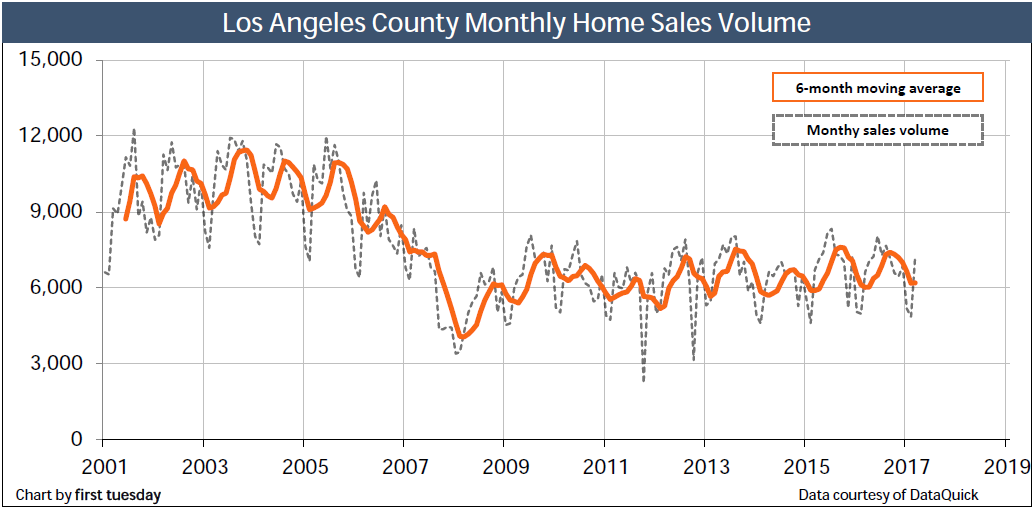 2017 projection*
2016
2015
2003: Peak Year
Los Angeles County home sales volume
80,000
81,000
81,900
125,900
*first tuesday's projection is based on monthly sales volume trends, as experienced so far this year.
Los Angeles County home sales volume continues on a gradual upward slope in 2017. Most recently, 2014 saw the lowest home sales volume, ending the year 7% below 2013. This same annual decrease was also experienced across the state. However, LA home sales volume increased in 2015, finishing out the year 11% higher than 2014, just above 2013. 2016 ended 1% below 2015, essentially level. Statewide, 2016 sales volume was also essentially level with 2015.
Looking back, after home sales volume plummeted during the Great Recession of 2008, volume rose briefly in 2009 into early 2010, due primarily to the housing tax credit stimulus and a naturally recurring "dead-cat" bounce at the end of every recession. Sales volume fell back in 2011 for lack of end user homebuyers and a retreat in speculator acquisitions. Home sales volume picked up in 2012-2013 due to the return of heavy speculator activity. During this period, speculators burned through LA housing inventory, particularly in low-tier home sales.
At the same time, demand in the form of end users (homebuyer occupants and long-term income property investors) for low-tier homes subsided, driven down by very rapidly rising prices and increased mortgage rates mid-2013.
Sales volume continues to feel downward pressure in 2017 as prices are still rising and incomes are in no way keeping pace. Sales volume reports for the last quarter of 2016 showed a more pronounced downward trend in response to the rise in interest rates that began in November. Thus, prices will dip 9-12 months hence (likely in mid- to late-2017) before Los Angeles will see sales volume begin to pick up steam in 2018.
A complete recovery of around 110,000 annual home sales will likely occur in 2019-2021, as end user demand in Los Angeles County is buttressed by a Great Confluence of Baby Boomers (Boomers) and first-time buyers who are lured by further employment (needed to accommodate population growth of roughly 1% annually since the beginning of the Great Recession).
Turnover is down
Chart update 12/19/16
2015
2014
2013
Los Angeles County homeowner turnover rate
6.0%
5.7%
6.1%

Los Angeles County renter turnover rate

14.7%
16.9%

18.1%
Home sales volume depends in large part on homeowner and renter turnover. The number of people moving from their residence each year is indicative of both the willingness and ability of homeowners to relocate and renters to move. Turnover rates are highest when jobs are abundant and employee confidence in the economy is high.
The most recent trough in Los Angeles' homeowner turnover rate was during 2008, when California was at the depths of the Great Recession. The number of homeowners relocating since then has increased, mostly due to turnover on foreclosures and short sales.However, LA turnover remains relatively low today with one in 16 homes selling annually. For reference, one in 12 homes sold in the peak year of 2005.
With home prices running higher and average turnover dropping in 2015, expect homeowner turnover reports to slip a little in 2016. Similarly, LA renters are motivated by the area's exorbitant rise in rents to stay put for the time being, likely awaiting wage increases before making a move.
The homeowner turnover rate will increase significantly as more jobs are available and employee turnover rates further improve (which presently are at half-normal). This is not expected before 2019-2020.
Further, turnover rates are likely to rise dramatically across the county in the 2018-2020 boomlet period. The mini boom will be fueled by a Great Convergence of demand from first-time homebuyers (members of Generation Y) and retiring Boomers buying replacement homes. Domestic and international emigrants will play a significant role in the county's periphery housing — the suburbs.
Homeownership bottoms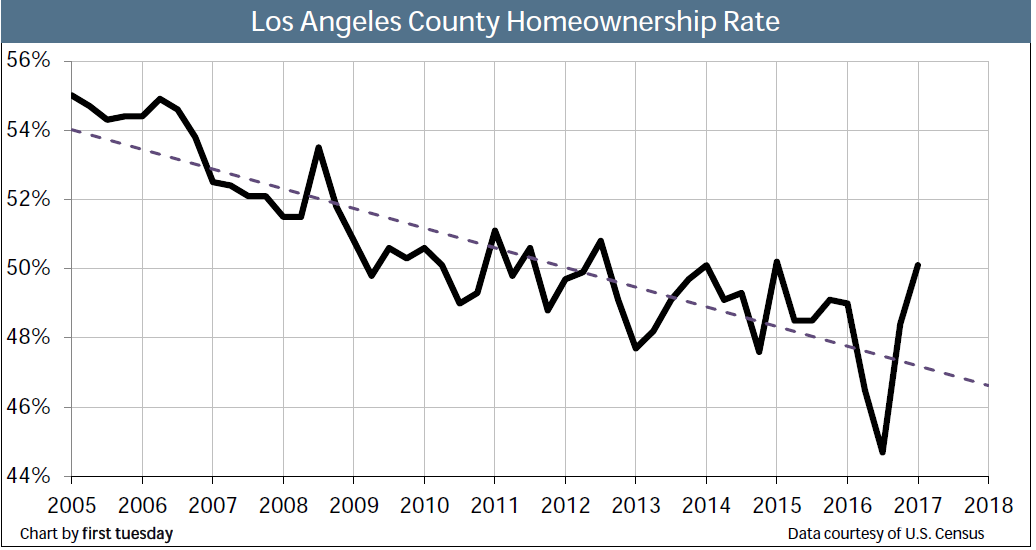 Chart update 06/07/17
Q1 2017
Q4 2016
Q1 2016
Los Angeles County homeownership
50.1%
48.4%
49.0%
The homeownership rate in Los Angeles County trended downward from the time the Millennium Boom ended in 2007 to its lowest point in Q3 2016 at under 45%. This low homeownership rate has since increased to 50% in Q1 2017. This is still down from 55% at the height of the Boom. The rate will likely remain low until about 2019 as rising FRM rates and declining prices in the interim will drive many owners back into negative equity with attendant short sales and foreclosures.
LA County's homeownership rate has historically been lower than the state average, which was 54% in Q4 2016. LA County has a smaller share of homeowners since much of the county is urbanized, and renting is a convenience, if not a financial necessity. LA's homeownership rate today is below what may be considered a "normal" (pre-Millennium Boom) rate, which was 48% in 2000.
The rise and fall of home pricing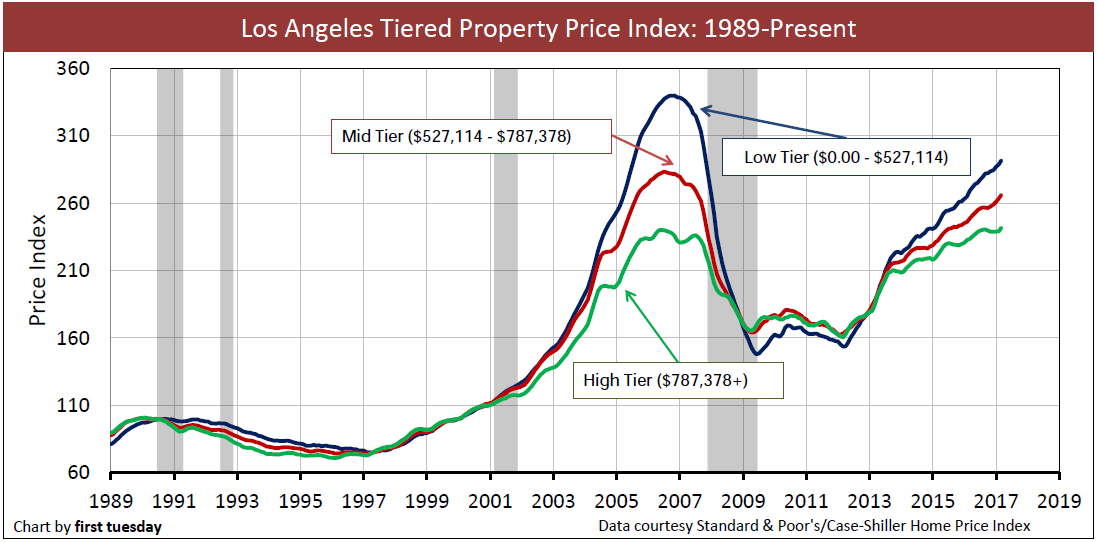 Chart update 06/07/17
Low-tier annual change
Mid-tier annual change
High-tier annual change
Los Angeles County home pricing index: Q2 2016
+8%
+7%
+4%
Along with the rest of the state, Los Angeles home prices skyrocketed during the Millennium Boom, then plunged to below mean price levels during the financial crisis and have been climbing out of the wreckage ever since. Like in other regions, there was a small bump in prices in 2009 driven by various economic stimulusprograms. The increases proved unsustainable and, without the support of fundamentals, home prices dropped back fully in 2011 to the price level of early 2009.
During 2013-2014, Los Angeles saw another rapid price bump, most significant in low-tier home sales. This rapid rise fell back somewhat in the following years and home prices finished 2015 and 2016 about 6% higher than the previous years.
Prices continue to rise in 2017, with low-tier prices 8% higher than a year earlier in Q1 2017. Mid-tier prices are 7% higher and high-tier prices are 4% higher. However, the FRM rate increase that began in late-2016 has decreased the amount of principal homebuyers are able to borrow while making the same sustainable mortgage payment. History has shown that prices naturally fall 9-12 months following commencement of a sustainable increase in mortgage rates. Thus, prices will most likely decrease in the second half of 2017.
The most sustainable prerequisite to a long-term and stable rise in prices occurs when end users collectively gain access to sufficient jobs with more competitive wages. 2018 is the likely year for recovery on that front.
Construction starts feed on rental demand
Chart update 06/07/17
2016
2015
2014
Los Angeles County single family residential (SFR) starts
5,000
4,800
4,400

Los Angeles County multi-family starts

15,600
18,700

13,800
Multi-family construction starts have jumped significantly in Los Angeles County, far outpacing the near-flat trend in single family residential (SFR) starts. This is due to the increased demand for rental housing, evidenced by the steep rise in rents, especially in the urban city-center areas of Los Angeles County. Builders know this and lenders are catching on.
SFR starts ended 2014 one-third higher than the prior year. This increase slowed in 2015, rising just 10% over 2014. 2016 saw multi-family starts suffering, a trend experienced across most of the state. Overall, in 2016 SFR starts increased just 4% over 2015 and multi-family starts decreased 17%.
The next peak in SFR construction starts will likely occur in 2019-2021. Even then, SFR starts will not return to the mortgage-driven peak experienced during the Millennium Boom. Multi-family housing will then experience higher levels last seen in the mid-1980s, which accommodated the arrival of Baby Boomers to the housing market. This time, the need for multi-family housing will be fueled by their Gen Y children.
More jobs needed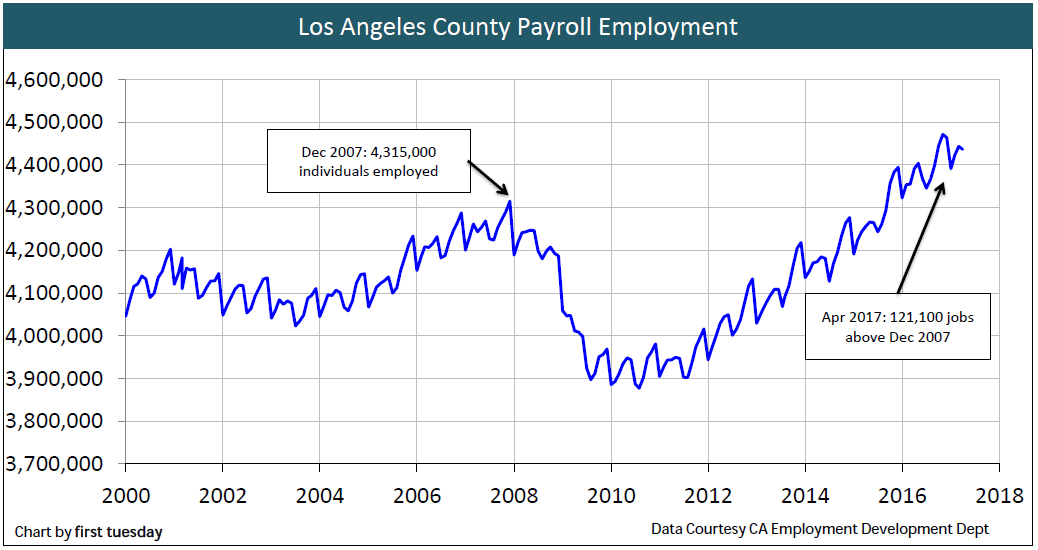 Chart update 06/07/17
Apr 2017
Apr 2016
Annual change
Los Angeles County employment
4,436,100
4,391,500
+1.0%
Since homeowners and renters require employment to make housing payments (with rare exception), the jobs recovery is key to the housing recovery. Over 4.4 million people are employed in Los Angeles County as of April 2017. This is about 450,000 more jobs than at the outset of the 2008 recession.
Los Angeles' jobs recovery rate has slightly trailed the statewide employment recovery in recent years and continues to slow. From April 2016 to April 2017, the number of jobs grew by a meager 1%. Contrast this with the statewide job growth of 2.3% over the same period of time.
Jobs by top employing industry
Chart update 06/07/17
Apr 2017
Apr 2016
Annual change
Construction
138,900
133,100

+4.4%

82,900
81,100

+2.2%
Two out of three of top employing industries in Los Angeles have recovered from the 2008 Recession. The Education and Health Services and Professional and Business Services sectors have experienced steady increases throughout the recovery. However, the greatest drop in numbers occurred in the Trade, Transportation and Utilities job sector, which is slowly nearing recovery.
In the housing industry,construction jobs took a huge hit and continue to plod along the path to recovery. Likewise, the number of employed real estate professionals has remained low throughout this recovery period. The number of real estate professionals is increasing very slowly, but will not likely rise to pre-recession levels until the next influx of buyers and renters enter the market around 2019-2021.
Everyone needs income to buy or rent
Chart update 12/19/16
2015
2014
Annual change
Los Angeles County per capita income
$53,521
$50,730
+5.5%
California per capita income
$53,741
$50,988
+5.4%
The average income earner in Los Angeles County earned roughly $53,500 in 2015 (the most recently reported Census year). For perspective, this figure is just slightly below the statewide per capita income.
Income per person in actual dollar amounts has only recently exceeded pre-recession levels in Los Angeles. However, when considering the inflation (loss of purchasing power) occurring during the intervening years, Angelinos' wages and wallets still need some fattening up to regain the standard of living experienced in 2007 – around $1,500 more today is needed to cover the interim inflation to simply match income's purchasing power in 2007.
As long as income remains diminished across most job sectors, increases in home prices and rents are limited. This is because buyers and tenants ultimately determine sales prices and rent amounts — collectively they can pay no more to buy or rent a home or apartment than their savings and income qualify them to. According to the U.S. Census, the average Los Angeles resident with a mortgage pays 51% of their income on housing expenses, as of 2015. Renters pay 52% of their income on housing costs. This high price for housing can't be sustained at today's incomes without a long-term drop in their standard of living and a rise in poverty and related symptoms.